Kerry get their priorities right
with new Centre Of Excellence in Currans
Two physio rooms, six pitches, eight dressing rooms – and a very small reception area. Kerry GAA was determined to prioritise the important stuff when they finalised plans for a €7m Centre of Excellence.
The almost finished product threw open its doors on Saturday (August 12th) for the first time, with Kerry GAA secretary Peter Twiss, explaining the philosophy and the big picture thinking.
"Sometimes the simplest thing is the hardest to achieve because people can get carried away," he said. "Receptions and hallways shouldn't be the central part of a facility like this. It's what the players require, the practical things, like the gym, the dressing rooms, the pitches. Having a wonderful reception that takes up half the building is of no practical use to us. Our reception area is small, which sends out a message. The main business is the players."
Kerry GAA chairman Tim Murphy, who as the board's development officer played a hands-on role once the oft-mooted project eventually got underway, went further: "We might have come late to the table in terms of having a Centre of Excellence, but what we did learn was from the mistakes of others. I genuinely believe that has stood us in good stead. I would safely say there is no centre in Ireland as good as what we have in Currans."
Four of the six pitches will be floodlit and ready for use for the county's teams pre-2018 season by November, though in reality, it will be the new year before inter-county squads begin using their new training base in the county.
"However, November is still our cut-off point to be ready, our tenders are back for the floodlighting, and so a supplier will be appointed in the next 10 days," Tim Murphy said.
The spider web design of the facility means it works from the centre out. At its heart is a massive gym with 30m testing track, which is perimetered by a circle of eight dressing rooms, including one specifically for ladies teams.
Each of the dressing rooms has its own exits to the pitches, avoiding any traffic through the heart of the centre. Upstairs is a central 50-seater auditorium, video room and eating facilities, one for senior teams and a second for underage.
The previous Kerry chairman pulled a lot of dollars from a lot of deep pockets through his ability to network his way through key boardrooms in New York over the past few years.
"I'd say very few GAA chairmen achieved what he did in America. He has great vision and he has a greater appreciation of the Kerry GAA brand than most others. It was only when we went to America we had our eyes opened to what the brand means.
"I never saw anyone like him for tapping into that passion for Kerry. It's worldwide.
"People from Chicago and Sydney have already been here in Currans, looking at the place and are overwhelmed by it."
Kerry has €1.5m and change to find to pay for land purchase and developments to date. Four floodlit pitches will be good to go in November, the other two pitches will be developed as and when needed and fundable.
But Tim Murphy, a quantity surveyor by trade, feels they've got the Centre of Excellence right.
"We wanted it to be the best, we wanted it to reflect Kerry's status in the association nationally. We travelled the country and looked at facilities everywhere. We looked at the best and least attractive aspects in each, and to be fair to each of them, we received sage advice."
Kerry was determined to prioritise the important stuff when they finalised plans.
"People get carried away," Twiss says. "Receptions and hallways shouldn't be the central part of a facility like this. It's what the players require, the practical things, like the gym, the dressing rooms, the pitches. Having a wonderful reception that takes up half the building is of no practical use to us. Our reception area is small, which sends out a message. The main business is the players."
Éamonn Fitzmaurice and Peter Keane would concur. It means both can coach and nurture talent and not fret over where their inter-county squads will train next winter or the one after.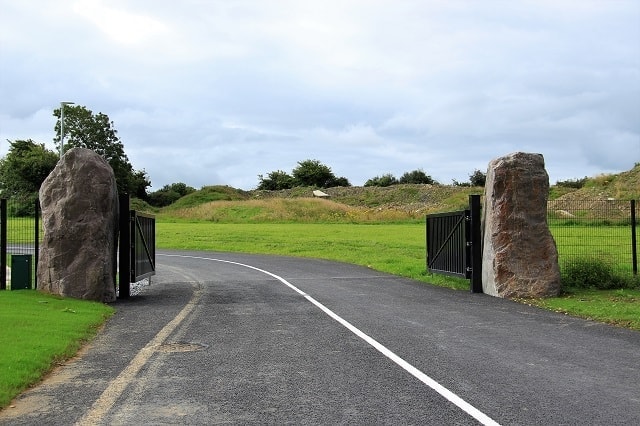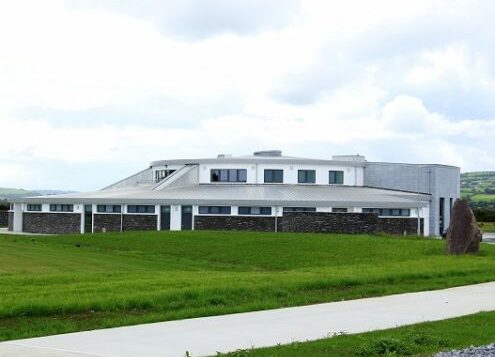 Supported at home and abroad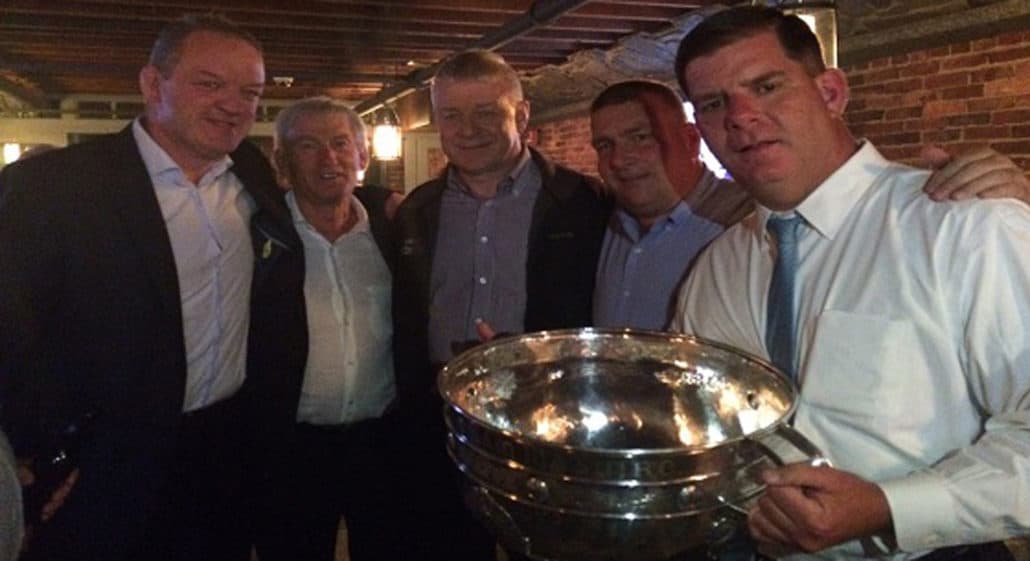 International and Local Support Extraordinary for New Kerry GAA Centre of Excellence
American businessmen and artists are joining Kerry artists, craftsmen and companies in a show of unprecedented support for the new Kerry Gaelic Athletic Association (GAA) Centre of Excellence that is scheduled for completion by fall 2016. A glamorous gala event at the Plaza Hotel in New York City on May 28, plus other events in Boston, Chicago and London this spring, will bring the fundraising effort to 85% of the €6 million goals to cover the cost of facility development and construction. The New York fundraiser expands on the success of last year's event that saw 350 businessmen and supporters pay a seat to attend, meet Kerry Gaelic football legends, and bid on GAA memorabilia.
It raised nearly a half-million dollars in one evening for the Centre of Excellence. This year there will be 400 attendees, and the auction will feature high-end works of art and craft from Kerry-based and New York artists, plus items from international sports figures and local luxury goods producers. Some of the unique Kerry donations created specifically for the event include a portrait of Mícheál Ó Muircheartaigh by renowned painter Liam O'Neill and a four-foot-high urn by potter Louis Mulcahy depicting Saint Brendan sailing to America and the Statue of Liberty. Tony O'Shea of Ambri Wood Pieces carved a Gaelic football out of 200-year-old wood that is mounted and signed by five top All-Ireland winners. Other participating talented Kerry locals include seascape painter Carol Cronin, sports action painter Paul Downey, coastline painter John Hurley and goldsmith Brian de Staic. There's a custom-made dress from Ballyheigue-based designer Don O'Neill and a cask of whiskey from Dingle Distillery.
Artist and Diaspora enthusiasm
Artist support for the fundraiser reaches beyond Kerry too, including watercolour painter Peter Knuttel of Wicklow, New York artist Valerie Hammond, and New York fine art photographer Neil Latham who donated silver gelatin photographs from his American Thoroughbred Collection. From the golfing world, there's a pitching wedge from Shane Lowry; signed and mounted flags from Rory McIlroy; and a Ryder Cup flag signed by Tom Watson and Paul McGinley. Comedian/actor Denis Leary, who has Kerry roots, donated a signed box set of his comedy highlights.
Jimmy Deenihan, TD, Minister for Diaspora Affairs and five-time GAA All-Ireland champion says art and Gaelic football have long been closely aligned in Kerry. "Visual and performing artists, writers and musicians have so often taken inspiration from the great Kerry players," he says. "In Kerry, football is regarded as an art form as much as a sport."Deenihan is impressed with the support of the Irish diaspora, in addition to the Kerry-based artists and companies. "This is one of the most successful fundraising initiatives ever undertaken by a county in New York," he says. "The success is due to the reputation of the county team, the loyalty of the diaspora to the home country, and the good standing of the organizers in the New York business community."There will also be a benefit to the diaspora says Deenihan, as young players and GAA clubs from around the world can come and develop their game skills at the Centre of Excellence in summer camps, while their families take a holiday in the vicinity. "It could become another pillar in the Kerry tourism industry," he adds.
A critical need in Kerry, says the Coach
Kerry head coach Eamonn Fitzmaurice says the impact of the new facilities will be huge in terms of team preparation. "We'll finally have a base that we can call our own to train our teams to the best of their abilities with floodlit pitches and a selection of equipment all in one place," he says. There are currently only five floodlit pitches in County Kerry. With more kids playing per population than any other county and 73 Gaelic football clubs, competition for lighted playing fields in winter is fierce. "It's quite a challenge to rely on club facilities in the winter," says Fitzmaurice, adding sometimes the team must travel to Limerick or Cork to train. Plus some of the players drive long distances for training since it's such a big county – the new facility is geographically very central, he says. Fitzmaurice says the Centre of Excellence will be brilliant from the youth perspective too. "We'll be able to expose players to high standards at as young an age as possible and move them through the ranks with the best coaching and facilities. The state-of-the-art training facilities will inspire them to take the sport seriously," he says. Kerry has fallen behind other counties that have built centres of excellence in the past 10 years or have access to university facilities like Cork, Fitzmaurice maintains. "The facility will be more convenient and more professional, it will be fantastic for training and our identity, and it will take us another step into the future."Pat Spillane, RTE game commentator and winner of eight All-Ireland medals, agrees that from a logistical point of view a central training location is vital.
But perhaps, more importantly, is the need to create the correct environment for the next generation of footballers with proper pitches, coaches and gym equipment, he says."Kerry footballers are skilled, we have a huge tradition, but we took our eye off the ball for several years," says Spillane. "We assumed there was a conveyor belt of talent coming through, but the game has moved on. It's all about coaching and development now. The new facility will lay the foundation for the future."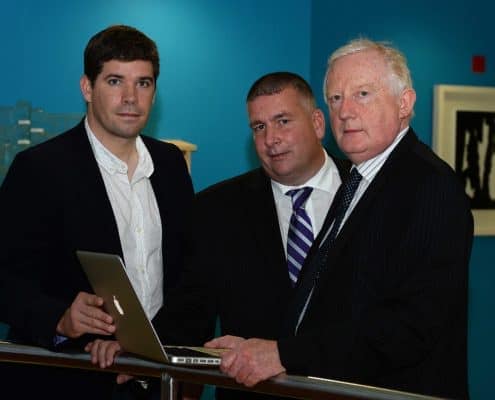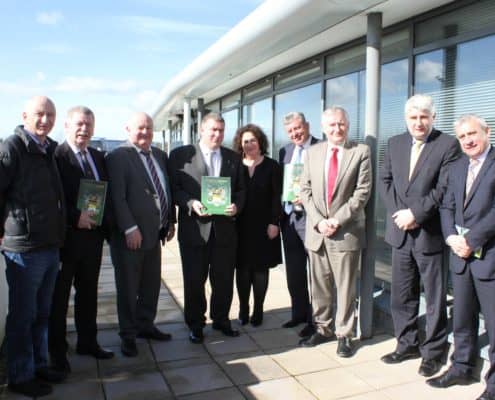 Approaching the Fundraising Goal
To date, €4.7 million has been raised for the €5.8 million projects, leaving €1.1 million yet to be raised. "There's a perception that the national GAA has plenty of money to pay for training facilities, but they spread their profits to all the GAA clubs in Ireland," explains O'Sullivan. The national GAA/Croke Park, the Munster GAA Council and team sponsor Kerry Group each donated a million euros. Friends of Kerry pledged €700,000 and the National Lottery gave €300,000. The county board must raise the remainder, and last year's New York fundraiser put a dent in the total needed, says O'Sullivan."Winning the Sam Maguire Cup should be a big help in fundraising this year, as it gives the effort more gravitas," says Fitzmaurice. "Raising money is tough work, and it's really appreciated.
The support from Kerry artists and businesses, as well as those overseas, is incredible, and humbling really from my perspective. The players and management are excited about using the facilities next year – the sooner the better," he adds."Supporting the Kerry GAA Centre of Excellence benefits everyone in the county because the success of the team is a great source of pride and joy for all those living in the Kingdom or with Kerry roots," says New York event co-sponsor Maurice Regan, Listowel native and president of J.T. Magen & Company, one of the largest construction companies in the New York metropolitan region. Spillane says there's a long history of Irish immigrants supporting the homeland, going back to the potato famine. "The Irish diaspora has never lost their sense of identity and love of their homeland, or their willingness to give back," he says.